Well at long last NBC has finally seen the gold they have in their archives and are rebooting Xena!
Xena 2.0 is in the works!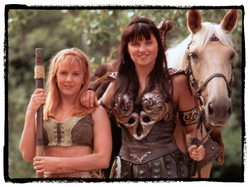 The Hollywood Reporter has revealed the following. Somehow I don't think finding a writing is going to be a problem. Resurrect our warrior and her bard and let's go already!
Producers NBC and NBC Universal International are currently searching for a writer to board the reboot, which hails from original executive producers Rob Tapert and Sam Raimi.
Sources tell The Hollywood Reporter that NBC and NBC Universal International are prepping a reboot of the beloved Lucy Lawless action-adventure drama. The drama is in the extremely early development stages and a search for a writer is currently underway.
Original executive producers Rob Tapert and Sam Raimi are also involved in the project, which is considered to be a "modern reboot."
It's unclear what, if any, role original star Lawless would have, though sources tell THR that insiders would like the original star to have both a role on screen and behind the scenes.
The drama is eyed for 2016.
It's too early to know if Xena 2.0 would be a limited 13-episode run similar to Fox's revived 24 or a more standard full-season order. Insiders say the hope is for the new Xena to be an ongoing (read renewable) series.
Sources say the new Xena would have to have the charisma and charm of Lawless and the smarts of The Hunger Games' Katniss as producers are said to be looking for a sophisticated and smart superhero for a new generation.